Where to Buy New Carpet??
Visit Alan's
Commonly
Asked
All about
How To Buy Carpet
Learn About
Alan's
Carpet Cleaning Business Directory
How Much Does
Take my
Free Carpet
How to Choose The Correct
How to avoid LOUSY
Buying Carpet at
New Carpet
Top 10 Causes
& Solutions
Alan's
Just $9.99 at Amazon.com
How To Measure For Carpet - Seaming Diagram

by Alan Fletcher - Carpet Expert and Consumer Advocate
How to Measure, Create and Build Carpet Seams:

Here is a simple Room Layout that measures 15' wide by 20' long. This is equal to 300 square feet (33.33 yards).

However, due to the extra seaming required, it will actually require using 324 sf. (36 yards.) of carpet.

Since the room is 15 feet wide, with 12-foot wide carpet there must be a long 3' x 20' seam along one wall.

There would be way too much material waste if we did the fill area in just one piece, so to save money we will create the fill area using 3 pieces. Based on the room width, this is the logical number of pieces to use to build the fill piece. Using two pieces to build the fill area would cost a lot more money and create more waste.

From a 12' x 7' piece of carpet, 3 pieces will be cut to measure 4' by 7'. We are adding about 6 inches extra on all sides to allow for seaming and trimming.

With all seams, the nap of the carpet must always run the same direction. That's why we use a piece of carpet 12' x 7' to build the fill area.

In the diagram below, See how carpet pieces A, B, and C are cut with a straight-edge and then seamed together to create one long 4' x 21' piece for the fill area.

There will be enough carpet to complete in job when the main piece of carpet (12' x 20') and the side fill (4' x 21') are seamed together.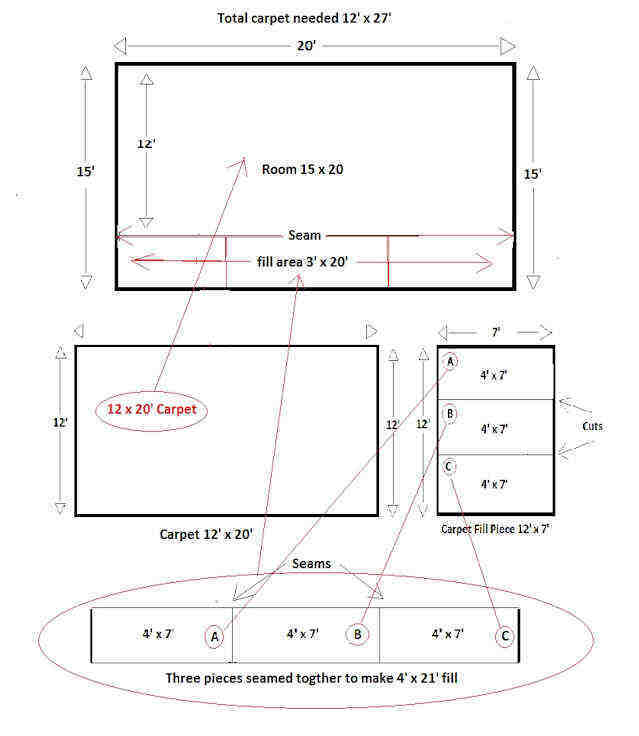 measure carpet, carpet measuring, carpet seams, measure carpet seams, seaming carpet, how to measure carpet, carpet seaming diagram,
More Free Information:
Diagram: Yardage Chart for Measuring Carpet
Carpet Installation Cost - Carpet installer labor prices
It's getting harder to find an honest and reputable carpet dealer these days! That's why I have created my own special list of hand-picked carpet stores who are locally owned, give free estimates, offer fair prices, have knowledgeable staff, provide honest measuring and hire qualified installers. Don't take chances buying from dishonest carpet retailers... See who I recommend near you!