How To Buy Carpet and Flooring Wisely
Carpet | Pad | Vinyl | Hardwood | Tile | Best Stores
---
Independent Carpet Installer Questions
1. Are You Licensed, Bonded and Insured?
Many states now require contractor certification. Even if your State does not require a State issued contractor license, always hire a flooring installer that is bonded and insured. Even if your state does not require this, you still need to make sure your installer has business liability insurance and is covered by his own workman's compensation insurance policy. (including his helpers too) Contractor Licensing Requirements For All 50 States
2. What is your State-Issued Registration or License Number?
You can call your State contractors licensing office and verify the status of his license and see if there have been any complaints or claims filed against the installer. Free Carpet Installation Checklist
3. How Long Have You Been Installing Carpet?
Always ask for three local references and require at least 5 years experience. (More for difficult or specialized installation jobs) Finding a Qualified Carpet Installer
4. Do you use a Power Stretcher?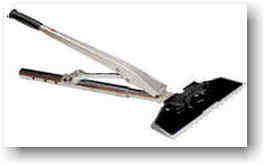 Yes, is the correct answer! Good installers always use a power stretcher to install carpet properly. Never let them tell you it is not necessary!
What is a power stretcher?
This is a tool that uses leverage to stretch carpet. All carpets installed over padding must be stretched in tight to prevent wrinkles from forming over time. Using a power stretcher is required to keep your new carpet warranty in force.
5. How Much Do You Charge?
Don't automatically go with the lowest priced installer. There are lots of fly-by-night installers who won't be there for you if you have a problem or complaint with your carpet in the future.
Most installers warranty the installation for one year. If your carpet starts getting wrinkles you need to know that they will return quickly to fix the problem. Carpet Installation Cost
10 Questions For Installers
Top 10 Questions
For Independent
Carpet
Installers
(Click on image to view full size or print)
Learn more: